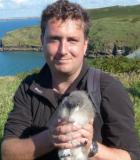 Senior Conservation Scientist
Profile / Bio:
BirdLife's work on the impact of energy infrastructure on birds is overseen by Tris Allinson, a world expert in the development of spatial planning tools to facilitate responsible energy expansion. Tris works closely with governments, international financial institutions, and the energy sector to ensure that avian data are effectively integrated within the renewable energy planning process.
He frequently contributes to global scientific and policy for a on the topic of biodiversity and energy and is chair of the Technical Working Group of the Convention of Migratory Species' Energy Task Force.