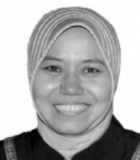 , People Centered Business and Economic Institute (IBEKA)
Profile / Bio:
Tri Mumpuni (Puni) is an agriculture engineer who has been campaigning for community development and renewable energy for decades. As the Executive Director of IBEKA, she has implemented more than 60 micro-hydropower projects to stimulate economic growth in rural parts of Indonesia. Her early experiences working with USAID and UNDP helped her develop a clear understanding of how to create community-based models. 
Puni has received many awards and recognition for her work, including being named a WWF Climate Hero in 2005, Woman of The Year in Indonesia's TEMPO Magazine in 2006, an Ashoka Fellow in 2006, and an Eisenhower Fellow in 2009. In 2012, she received a Community Power Ashden Award, and the Global Peace Award for Outstanding Social Entrepreneurship.