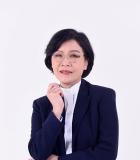 , Electronic Transactions Development Agency (ETDA), Thailand
Profile / Bio:
Tipsuda Thavaramara is a former financial market regulator with a special interest in market development, competition policy, cryptocurrency and decentralized finance.
She has 26 years of experience at the SEC Thailand and was SEC Deputy Secretary-General from 2014 to 2019. Her accomplishments at the SEC include liberalizing securities businesses and creating competition in the exchange business, initiating a regulatory framework for crypto assets, drafting the derivatives law and launching Thailand Futures Exchange (TFEX), establishing the Thai Bond Market Association, and formulating the plan for ASEAN capital market integration. She also served on the Board of the Government Pension Fund from 2007-2011.
Ms. Tipsuda received her MBA from the Wharton School, University of Pennsylvania and her AB in Mathematics from Harvard University.