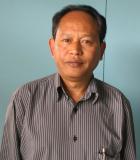 Meghalaya Power Distribution Corporation Limited
Profile / Bio:
Mr. Tippor Roy Pdah is presently the Additional Chief Engineer of the Meghalaya Power Distribution Corporation Limited, a company incorporated under the laws of Companies Act 1956 and having its Registered Office at Lumjingshai, Short Round Road, Shillong-793001, Meghalaya, India.
He has been working passionately for more than 15 years in the field of rural electrification in the State of Meghalaya which is directed towards overall rural development, employment generation, and poverty alleviation by facilitating power provision for domestic consumers, irrigation, small enterprises, healthcare, education, etc. He was the State Nodal Officer for monitoring and updating of data during the implementation of Rajiv Gandhi Grameen Vidyutikaran Yojana (RGGVY) Scheme for Rural Electrification Infrastructure and Household Electrification.
He was also actively involved in the implementation of Deen Dayal Upadhyaya Gram Jyoti Yojana (DDUGJY) Scheme involving electrification of un-electrified villages, system strengthening, and provision of solar stand-alone home and street lighting through Decentralised Distribution Generation (DDG) Scheme.
Mr. Pdah joined the Meghalaya Power Distribution Corporation Limited in 1987. Prior to his current role, Mr. Pdah has worked in the distribution sector involving construction, operation and maintenance of power supply, revenue billing and collection, etc. He has also involved himself in the field of e-tendering for new schemes, etc.