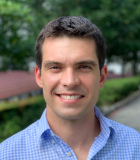 Co-Founder and Managing Director
Profile / Bio:
An enthusiastic, driven thinker with a global perspective and diversified international work experience covering emerging technology, digitalization of learning solutions, management system certification, product certification, and training, across 25 countries. His focus on breaking down fundamental constraints by applying technology in innovative ways has led him to create a blockchain-powered educational platform, bridging the gap between 'New Economy' skills and employment prospects.
With 15+ years of experience in the Indian and Asia Pacific markets, he is involved in the strategic development of future-ready learning, training, and consultancy solutions.