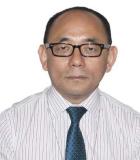 Portfolio Management Principal & Specialist
Profile / Bio:
Tika Limbu has over 30 years of professional experience, including 12 years with ADB in the roles of Energy Economist, Senior Energy Specialist, and Principal Portfolio Management Specialist, having expertise in project processing and project administration, and contract management and procurement. Tika is a PASS accredited in procurement and consultant recruitment. He holds a bachelor's degree in Electrical Engineering, and a master's and Ph.D. in Energy Economics and Electricity Markets. Prior to joining ADB, he was a senior engineer in a multinational consulting company in Australia. He has worked in state-owned power utilities in Nepal and Australia.
Since December 2017, Tika is the Head of the Portfolio Management Unit in Bangladesh Resident Mission of ADB. Tika is a Registered Professional Engineer (Electrical), MIEEE, MIEAust, and a Fellow of Bangladesh Institute of Engineers.