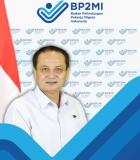 Profile / Bio:
Born in Palembang on April 7, 1962. Completed his education and earned a Bachelor's degree in International Relations from Padjadjaran University, Bandung in 1986. He continued his education at European University, Paris, France, and earned a Master of Business Administration in 1995.
Is a career diplomat from the Ministry of Foreign Affairs. He started his diplomatic career at the Indonesian Embassy in Paris as head of the foreign policy department in 1992. Previously, he also served at the Indonesian Permanent Mission to the United Nations in New York as head of the information department under the Middle East Affairs and OIC section. In 2006 he served as Deputy Ambassador of the Indonesian Embassy in Kuala Lumpur, Malaysia. In 2010 he served as Director of the Protection of Indonesian Citizens and Indonesian Legal Entities at the Ministry of Foreign Affairs. Then he became the Indonesian Ambassador to Kuwait in 2014. In 2018, he was appointed as the Main Secretary of BNP2TKI until now.
For his service as Deputy Ambassador in Kuala Lumpur, he was awarded the Indonesian Citizen Protection Award by the Minister of Foreign Affairs, the Pioneer of the Public Service Innovation Excellence Award by the Minister of Administrative Reform and Bureaucratic Reform, and the Indonesian President 's Public Service Excellence Award.
Source: https://bp2mi.go.id/profil-struktur-v2/Drs.%20Tatang%20Budie%20Utama%20R....