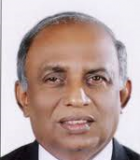 Profile / Bio:
Justice Suresh Chandra serves as a judge of the Fiji Supreme Court and a resident justice of appeal of the Fiji Court of Appeal, after retiring from his position as judge of the Supreme Court of Sri Lanka in 2012. He is also the national coordinator of the National Judicial Education Committee, the chairperson of the Fiji Law Reports Committee, as well as a committee member and accredited mediator of the Fiji Mediation Centre.
Justice Chandra obtained his LLB and LL.M. from the University of Colombo and did private practice from 1972 to 2008. He served as a consultant to several leading banks and institutions, including the United States Agency for International Development (USAID) and the World Bank. He was also the deputy permanent representative of Sri Lanka to the United Nations in New York in 2009 and a member of the panel of arbitrators of the Sri Lanka National Arbitration Centre.
Justice Chandra has been a resource person for the International Labour Organization, the International Organization for Migration, the Sri Lanka Bar Association, and the Sri Lanka Judges' Institute. He also taught at the Faculty of Graduate Studies of Colombo University, the Open University of Sri Lanka, the Sri Lanka Law College, and the University of Moratuwa.
LinkedIn:
https://www.linkedin.com/in/suresh-chandra-5a96101a/