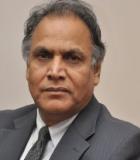 , Indian Institute of Dalit Studies
Profile / Bio:
Dr. Sukodeo Thorat is Professor Emeritus at the Centre for the Study of Regional Development, Jawaharlal Nehru University, K.R. Narayanan Chair for Human Rights & Social Justice at Mahatma Gandhi University, Chairman at Indian Institute of Dalit Studies and Institute of Social and Economic Change. He is the former Chairman of the University Grant Commission and the former chairman of the Indian Council of Social Science Research. His works extensively cover issues around Rural Poverty, Excluded Groups, the Economics of the Caste System, Caste Discrimination and Poverty, and Human Rights.
In 2008, he was awarded the Padma Shri, one of the highest civilian honors in India, for distinguished service in the field of literature and education. He has also been awarded Dr. Ambedkar National Award for Social Understanding and Upliftment of Weaker Sections in 2011 by Dr. Ambedkar Foundation, Ministry of Social Justice and Empowerment, Govt. of India 2017 and Dr. Bhimrao Ambedkar Ratna Award in 2012-13, and Mother Teresa International Award, for Outstanding Achievement and contribution towards the people of our nation, by All India Minority and Weaker Section Council, Kolkata.