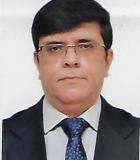 Profile / Bio:
Subir Das holds an M.Sc. degree in Chemistry and MBA degree in Finance. He joined ECGC in 1995 and has served the organization in various capacities in its different offices.  During his service in ECGC, he has worked in different departments in Head Office and Branch offices. He headed ECGC Branch offices at Bhubaneswar and Delhi and also the Policy claims department at the Head office. He held the position of Regional Manager, Eastern Region from June 2016 to June 2019. 
Since June 2019, he is holding the position of General Manager in the corporate office of ECGC and has been looking after the key areas of operations such as Policy Planning, Project Exports & NEIA, Buyer & Policy Underwriting, Policy Claims and Recoveries, etc. He participated, as a panel speaker, in the international seminars and also represented organizations in the various trade and industry forums.
He is currently the Chief Underwriting officer-Policy-ST, of ECGC.