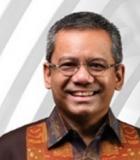 , Ministry of Finance, Indonesia
Profile / Bio:
Born in Jakarta on November 23, 1970, Suahasil earned his bachelor degree majoring Economics from Universitas Indonesia in 1994 and his Master of Science from Cornell University USA in 1997. In 2003, he gained his Doctor of Philosophy (PhD.) from University of Illinois at Urbana Champaign USA.
Suahasil was a member of Fiscal Decentralization Expert Team for Minister of Finance from 2009 to 2011. During 2009-2013, he was the Chairman of Economics Department of Faculty of Economics of Universitas Indonesia. Besides, he has served as the Vice Chairman of Regional Autonomy Supervisory Committee since 2009; Policy Group Coordinator of Secretariat of Poverty Reduction Acceleration National Team, Vice President Office since 2010; and the board member of National Economic Committee (KEN in 2013-2014).
Commencing on February 6, 2015, he serves as the Acting Head of Fiscal Policy Agency and on Oktober 31, 2016 was inducted as the Head of Fiscal Policy Agency.