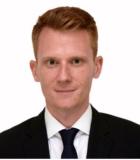 Senior Disaster Risk Management Specialist
Profile / Bio:
Steven supports developing countries across Asia and the Pacific build climate and disaster resilience, recover from disasters, and find solutions to better reduce and manage disaster risk. Prior to joining the Asian Development Bank, Steven worked for over a decade at the United Nations, both in the field with the UN Development Programme (UNDP) and at headquarters in New York with the UN Office for Disaster Risk Reduction (UNDRR). He holds a master's degree in peace and conflict studies from the University of Sydney, and a bachelor's degree in Asian studies and political science.
 Steven Goldfinch 辅助亚行灾害风险管理政策和策略的实施,并为亚行运行部门在实施灾害风险管理的项目上提供支持。加 入亚行之前,Steven在联合国工作了十几年,包括联合国开发计划署的实地工作和在纽约总部办公室的联合国国际减灾战略 署。在乌干达,他为当地政府就灾害风险管理的策略和发展计划提供建议和支持。在联合国总部,他也负责为以纽约为基础的 关于减灾和可持续发展的政治进程提供分析支持。在他职业生涯前期,他在孟加拉国同联合国开发计划署在灾害风险的减低、响应和恢复领域一起工作。他拥有悉尼大学的和平与冲突研究硕士学位以及惠灵顿维多利亚大学的亚洲研究与政治学学士学 位。
Стивен Голдфинч работает в сфере реализации политики и плана действий по управлению рисками стихийных бедствий, а также оказывает поддержку операционным департаментам АБР в реализации проектов по управлению рисками стихийных бедствий. До АБР Стивен более десяти лет работал в Организации Объединенных Наций, как на местах с Программой развития ООН (ПРООН), так и в головном офисе в Управлении Организации Объединенных Наций по снижению опасности бедствий. В Уганде он консультировал и оказывал поддержку местному правительству при подготовке стратегии управления рисками стихийных бедствий и в развитии программной деятельности. В головном офисе ООН он обеспечивал аналитическую поддержку нью-йоркским политическим процессам, связанным со снижением рисков стихийных бедствий и устойчивым развитием. В начале своей карьеры он работал в Бангладеш с ПРООН над сокращением риска, реагированием и восстановлением после стихийных бедствий. Стивен получил степень магистра в сфере изучения проблем мира и конфликтов в Университете Сиднея, а также степень бакалавра в сфере изучении Азии и политической науки в Университете Виктории в Веллингтоне.