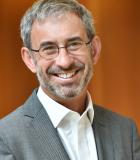 Head, Trade and Supply Chain Finance Program
Profile / Bio:
Steven Beck is the head of trade and supply chain finance at the Asian Development Bank (ADB). He has managed exponential growth of the bank's trade finance business and implemented its first supplychain finance business. While at the ADB, Steven initiated a tool that maps the entire supply chain for COVID-related goods to address shortages. He initiated the Trade Finance Register of the International Chamber of Commerce (ICC), which compiles the only industry-wide statistics on trade-finance default and loss rates. These statistics underpinned changes to the Basel III regulations, freeing billions of dollars to support trade in emerging markets.
He created the ADB led study that, for the first time, quantified trade finance market gaps and their impact on economic growth and jobs. Under Steven's leadership, a gender audit was conducted of ADB partner commercial banks to develop specific recommendations to attract, retain, and promote more women in banking. Steven undertook several initiatives to make global trade and supply chains more robust through digitization, including establishing the Digital Standards Initiative in partnership with the Government of Singapore and the ICC.
He began his career with roles as a special assistant to the Canadian minister for international trade and as a senior manager at the Canadian Imperial Bank of Commerce (CIBC). He left CIBC to help start up a new multilateral development bank, the Black Sea Trade & Development Bank (BSTDB), which focused on economic development in Turkey, Russia, and countries of the former Soviet Union. Following BSTDB, he took up roles as a senior consultant, including work with the United States Agency for International Development in southern Africa.
Steven is on the governing board of the Digital Standards Initiative, International Chamber of Commerce. He is a member of the World Trade Organization (WTO) Working Group for Trade Finance. He has an M.A. from the Fletcher School at Tufts University, USA and a B.A. from Queen's University, Canada.