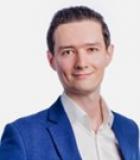 , EcoLabs E-Learning Platform
Profile / Bio:
Stanislav is driving new partnerships and engagements with start-ups, SMEs, corporates, investors, and market entry partners, and working closely with them on technology translation, commercialization and market entry programs at EcoLabs Centre of Innovation for Energy.
He is also leading the EcoLabs E-Learning Platform initiative where energy-related courses and know-how will be aggregated from subject-matter experts, corporate partners, and start-ups in their respective areas of expertise.
With over nine years of experience in spearheading multi-million international energy projects in Singapore, France, Moscow, and Siberia, Stanislav is a certified Project Management Professional and holds an MBA degree from the National University of Singapore.