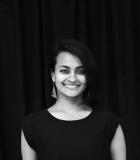 Profile / Bio:
Ms. Shah leads urban planning, gender and transport strategy, research, projects and policy at ITDP India. She has 13+ years' experience across multiple scales on city development, neighborhood plans, transit-oriented development and station accessibility planning, street design, historic precinct conservation, urban redevelopment, housing policy research, and gender aspects of these thematic areas.
Some of her projects include contributing towards India's national street design guidelines called the Indian Roads Congress Guidelines; Gender Assessment of Public Transport in Delhi; Women's Safety in Public Transport in Bhopal; Transit-Oriented Development Policy for Jharkhand state; Transit-Oriented Development in Naya Raipur; Improving Safe Access and Pedestrian Environments in MIDC Marol (Mumbai); and Recreation and Tourism Development Plan for Manori-Gorai-Uttan Notified Area (Mumbai).
She wears dual hats as a practitioner and educator. She has conducted capacity building sessions with over 150+ students, professionals and government officials. She has taught at Indian Institute for Human Settlements, Anant National University, KRVIA, Academy of Architecture and the JJ School of Architecture.
Ms. Shah completed a B.Arch from KRVIA, Mumbai University and MSc Urban Planning from Columbia University. She was featured in the Alumni Spotlight in Fall 2013-14.