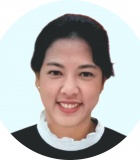 , The Anti Money Laundering Office,Thailand
Profile / Bio:
Sirirut (Wiwek) Rattanamongkolsak or Tik has been a member of the Anti-Money Laundering Office (AMLO) for 15 years. She is currently the Senior Investigator in International Cooperation Division and has been involved in conducting investigations, examining reports and data on financial transactions for international case and cooperation for domestic case which related to foreigners and international organization.
Prior to joining International Cooperation Division, Sirirut was the investigator in Litigation Division and Special Task Force Division, respectively.
Sirirut is also based in the Mutual Evaluation (ME) of anti-money laundering/counter financing of terrorism (AML/CFT) project in Thailand and also a member of assessment team for latest Myanmar Mutual Evaluation (ME).
Other Experience :
- The Bali Process : Drafting Committee on Following the Money in Human Trafficking.
- FIU Expert Exchange to Lao PDR for AML/CFT Investigations.
- Thailand's representative (FIU) for Asset Recovery Interagency Network Asia Pacific (ARIN-AP).
- Drafting team: Rapid Reference Guide on Applicable Offenses to Wildlife Trafficking for LEAs and prosecutor in Thailand, USAID's project.
- Speaker for International, regional workshops and conferences including Training Enhancing the skills on evidence handling for money laundering, corruption, human trafficking and wildlife trafficking.