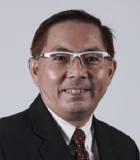 , Infocomm Media Development Authority
Profile / Bio:
As the Director for Trade of the Sectoral Transformation Group in Infocomm Media Development Authority (IMDA), Sin Yong Loh is responsible for transforming trade (Wholesale Trade, Trade Finance, and Logistics) sectors using ICM technologies to enhance the sectors' competitiveness in the global market.
Sin Yong has more than 25 years of professional IT and extensive leadership experience in Trade Facilitation, Logistics, and Maritime domains, with international exposures in the People's Republic of China, Southeast Asia and South Asia markets.
Before joining IMDA, Sin Yong spent more than 11 years in CrimsonLogic where he most recently served as Senior Director, Asia. In addition to leading the Strategic Account Management team to deepen customer intimacy and cultivating new opportunities, he was responsible for creating and driving business strategies in the region. Prior to this recent role, he was the General Manager of CrimsonLogic eTrade Services Pte Ltd (a fully owned subsidiary of CrimsonLogic Pte Ltd) and his team was responsible for offering innovative and secured electronic connectivity solutions to the trade and logistics industry. Under his leadership, GridNode Pte Ltd, a provider of business-to-business (B2B) integration solutions and managed platforms, was successfully acquired by CrimsonLogic.
Before joining CrimsonLogic, Sin Yong spent more than 8 years with PSA Corporation (previously the Port of Singapore Authority). Besides being an expert in the area of EDI, he is also experienced in the design and implementation of an organization's IT infrastructure, IT strategy and master plan, a project which he undertook while being seconded to PSA's flagship overseas joint venture project in the People's Republic of China for 3 years.
Additionally, he spent 3 years with Exploit Technologies Pte Ltd, the commercial arm of A*STAR (Agency for Science, Technology and Research), supporting A*STAR's Research Institutes on matters relating to intellectual property protection. His work at Exploit included managing part of A*STAR's IP (Intellectual Property) portfolio comprising at least 250 IT-related patents and patent applications at their various stages of prosecution cycle.
Sin Yong holds a bachelor's degree in Computer & Information Sciences, a master's degree in Management of Technology, and a Graduate Certificate in Intellectual Property Law.