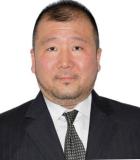 Senior Urban Development Specialist
Profile / Bio:
Dr. Shotaro Sasaki is the Senior Environment Specialist for ADB's Urban and Social Sectors Division in the East Asia Department. He joined ADB in 2005 and worked on energy projects in Central and West Asia such as Afghanistan, environment improvements in South Asia such as India, and in the private sector.
Prior to ADB, he worked for a Japanese power company as an engineer involved in operation and maintenance of coal thermal and geothermal power plants, promotion of waste-to-power projects, and construction of biomass power plants. Dr. Sasaki holds a Ph.D. in International Relations (Environment Policy), a Master of Arts in Law and Diplomacy, and a Master of Arts (Urban and Environmental Policy) from The Fletcher School, Tufts University, USA. He also has a Master of Engineering (Mechanical) degree from Sophia University, Japan.