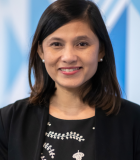 Former CIO and Director General
Profile / Bio:
Shirin Hamid has more than 20 years of executive leadership in digital transformation and innovative use of information management and technologies for complex, large multinational and multi-dimensional organizations at an international scale. 
As CIO of the ADB, Shirin was responsible for the Bank's digital strategies and transformation, and its IT infrastructure, operation and talent spanning across more than 30 countries. Under her leadership, ADB was awarded the 2021 CIO 100 Award for its Digital Innovation Sandbox which has produced several "firsts" for ADB such as artificial intelligence (AI) conversational bots, robotic process automation, and blockchain transactions. In 2019, ADB was also awarded the CIO 100 Award for its successful adoption of cloud solutions and innovative technologies to support a mobile workforce, improve user experience, and enhance organizational resiliency and IT security.
Prior to ADB, Shirin was the Chief Technology Officer of the United Nations Development Program (UNDP) in New York from 2005 to 2016. Before that, she was the General Manager of IS/IT in Singapore's Keppel Offshore & Marine Ltd and concurrently, of its parent company, Keppel Corporation. 
Shirin started her professional career as a consultant at Andersen Consulting/Accenture in Singapore and subsequently at Deloitte Consulting in Boston, USA. She holds a Master's degree in Business Systems Analysis and Design from City University, UK and a Bachelor's degree in Computer Science from Coventry University, UK. She currently lives in Manila in the Philippines with her husband and two kids.
Shirin was honored in 2014 as a Top 100 Premier Global IT Leader by ComputerWorld. In 2019, she made it to The World's 100 Most Influential People in Digital Government for her digital transformation initiatives. For two consecutive years (2019 & 2020), GovInsider's Women in GovTech acknowledged Shirin's leadership in public sector innovation.
Recognizing Shirin's exemplary brand of IT leadership during the COVID-19 pandemic in 2020, Gartner, the world's leading research and advisory company, published an article citing ADB's IT rapid response and prioritization initiatives for remote work arrangements and operational resilience.
In 2020, ADB was declared country winner and regional finalist in three categories of the IDC Digital Transformation (DX) Awards - Special Award for Resiliency, DX Gamechanger, and Operating Model Master. The annual program honors the achievements of organizations in Asia Pacific that have successfully planned and executed their digital transformation initiatives.
In 2021, Singaporean daily broadsheet Berita Harian prominently featured Shirin in an article about women who have excelled in their corporate career and made an impact in their communities.
She left her position in ADB in January 2022.