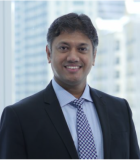 President and Country Head
, Tata Consultancy Services (Philippines) Inc.
Profile / Bio:
Shiju Varghese is a transformational leader and gifted P&L owner seasoned in diverse Asia technology markets operating in a global paradigm. Passionate about creating and growing teams of performers who drive business results, he champions data-driven decision making, process excellence and innovation and gains real excitement in designing and taking to market compelling services and business propositions that generate revenue and build value.
Shiju's capability has been evidenced in his current role as President/Country Head of Tata Consultancy Services, Philippines. He expanded the footprint, exceeding the revenue of the previous 10 years in just 30 months, delivering profitability and growing the customer base 100%+. 2020 saw new deals totalling $100M+ signed – a record year for the company – with innovative products and services added to the portfolio.
TCS has been recognised as a Top Employer in the Philippines for the 5th year in a row by Top Employer Institute. TCS Philippines also received an Achievement Award at the 4th ASEAN-India Business Awards from the President of India in 2019, and a Partner Value-Enterprise Award by Channel Asia in 2020.
Most recently, CMO Asia and World Marketing Congress awarded TCS Philippines the 2021 Best Brand Leadership Award and Shiju was recognized as Business Leader of the Year 2021. TCS was awarded the Silver Stevie 2021 for Most Exemplary Employer in COVID 19 response and Bronze Stevie for Excellence in Innovation in Technology Industries in 2021.
Appointed General Manager & APAC Business Process Services Delivery Head in 2016, he completely realigned business operations in China. Leading 6000+ associates, across Philippines and China centres, he expanded centres in Tianjin and Hangzhou with operations in Shanghai and Dalian servicing new business, doubled the customer base and oversaw 370% headcount growth. He delivered sustained profitability, eventually contributing 26% of all revenues to the TCS China portfolio.