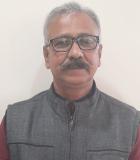 , Public Works Department, Government of Assam, India
Profile / Bio:
Shantanoo has progressed to becoming Senior Consultant to the Public Works Department after serving it as Additional Chief Engineer (Mechanical).
Fully committed to environmental protection and management, he is pioneering bio-engineering in the field of erosion control and waste management. He handles the environmental engineering works of the department and currently acts as the Nodal Officer for a large wildlife-friendly road project along the Kaziranga National Park of Assam.