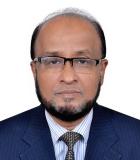 , Mitsubishi Research Institute
Profile / Bio:
Shah Zulfiqar Haider is a Registered Professional Engineer (PEng) and Certified Energy Auditor from USA and Life Fellow of Bangladesh Computer Society. He has 40 years of experience in Infrastructure, Sustainable Energy, Climate Change & Military Engineering Services. He is an International expert in Sustainable Energy, Smart Grid, Infrastructure planning, Total Quality Management (TQM), Management of Electric Utilities etc. He has attended International Conferences as Keynote Speaker/Executive Dialogue Speaker/ Presenter/Facilitator on Smart Grid, Energy Efficiency, Climate Change, Sustainable Energy, Sustainable Tariff, Rural Electrification, Future Energy etc. in USA, Belgium, Singapore, Malaysia, Indonesia, India, Vietnam, Pakistan, Morocco, Nepal, Philippines etc.
He has many International publications on Energy, TQM, Sustainable Energy etc. He received National award as "Best Officer in Energy sector" by Government of Bangladesh. He was Director of Sustainable & Renewable Energy Development Authority, Bangladesh. At present, he is Technical Adviser of Mitsubishi Research Institute and gives Technical support to Sustainable and Renewable Energy Development Authority, Bangladesh. He is Member of many International Energy, IT and TQM related organizations.