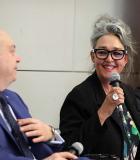 , Tranparency International, Australia
Profile / Bio:
Serena is an experienced corporate accountability practitioner, researcher and advocate, with an extensive career in responsible business conduct. 

Her expertise includes governance, corruption, human rights, labour rights and land and resettlement issues. She has worked across the financial services, mining and garment and apparel sectors.