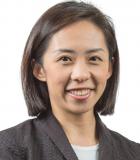 Director, Startup Development Division
Profile / Bio:
Lim Seow Hui is currently the Director of Startup Development Division in Enterprise Singapore. Prior to that, she spent 5 years heading a team in the Corporate Planning Unit of then-SPRING where she helped develop the organization's strategic map and KPIs with Balanced Scorecard and also represented Singapore at international fora on SME-related policies development such as ASEAN and APEC SME Working Groups. She was also involved in supporting SMEs' growth in the Printing and Electronics Sector when she joined then-SPRING in 2008.
In Seow Hui's current role, she works closely with partners such as government agencies, VCs, investors, accelerators and incubators to grow the Singapore startup community. In recent years, Singapore's startup ecosystem has grown significantly in terms of activity, vibrancy and diversity. Singapore was ranked 12 out of 20 cities in 2017, ahead of global startup ecosystems such as Toronto, Stockholm, and Sydney. Over the past decade, entrepreneurial activity in technology sectors has increased, with the number of tech startups in Singapore growing to 4,000 in 2017. Singapore has witnessed success and notable exits/ acquisitions including Quantum Inventions (acquired by German automotive giant Continental AG in 2018) and RedMart (acquired by Alibaba in 2017). As Singapore turned towards an innovation-led economy in the new phase of growth, the role that startups play will gain even more significance. Enterprise Singapore will continue to grow the Singapore startup ecosystem into a global hub.