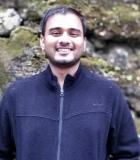 Business Leader – Asia & Pacific
Profile / Bio:
Sanaullah Fathi has expanded GLP's business in the Philippines, Papua New Guinea, Fiji, and Vanuatu, onboarding over 50 partners in Asia and the Pacific. His team focuses on identifying, piloting and scaling partnerships with unique last mile connected distributors like Digicel in PNG, Vision Group in Fiji, Card Bank in the Philippines.
In his last role, Sanaullah helped Utkarsh Microfinance, a leading small bank and microfinance institution in India to set up micro-energy lending in rural India. He strategized with the senior management team and led the operations with a team of energy officers. Prior to that, he led Asia partnerships for Edge which built talent for social enterprises in developing markets.