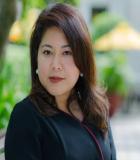 Senior Public-Private Partnership Specialist
Profile / Bio:
Ms. Ong is a national of the Philippines. She developed Thought Leadership materials on Public Private Partnership (PPP) and Privatization. She obtained her Master's degree in Business Management from the Asian Institute of Management in the Philippines and earned her Certificate in Finance from ESADE Business School, Spain and a Bachelor's degree in Business Economics from the University of the Philippines.
Ms. Ong has extensive experience advising on PPP transactions in the transport, logistics, water, healthcare, education and sports infrastructure sectors. Prior to joining ADB, Ms. Ong was Director at PricewaterhouseCoopers (PWC) in Singapore, where she has originated and led the execution of project finance and PPP advisory mandates in Australia, Singapore, the Philippines, Indonesia, Thailand, Hong Kong, Myanmar, and Brunei.
Prior to joining ADB, Ms. Ong was based in Australia and Singapore where she worked on PPP advisory engagements in various sectors, including  transport, healthcare, tourism, sports infrastructure, and defense. Ms. Ong was also in investment banking at Bankers Trust Company,  a New York-based investment bank, where she worked on capital markets transactions and syndications.