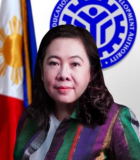 Deputy Director General for Policies and Planning
, Technical Education and Skills Development Authority (TESDA) Philippines
Profile / Bio:
Ms. Rosanna A. Urdaneta currently holds the position of Deputy Director General for Policies and Planning at the Technical Education and Skills Development Authority (TESDA) in the Philippines.
As Deputy Director General for Policies and Planning, her leadership and foresight has driven TESDA into international prominence, especially with the establishment of the ASEAN TVET Council (ATC), while securing the relevance of technical vocational education and training (TVET) at the national level. She is instrumental in spearheading key policy reforms directed at guaranteeing the readiness of the TVET sector for the Fourth Industrial Revolution. She further facilitated the strengthening of industry participation and partnership in TVET thru the formulation of a blueprint for the TVET sector in the country known as the National Technical Education and Skills Development Plan 2018 to 2022. She is currently the Asia-Pacific Economic Cooperation (APEC) Human Resources Development Working Group (HRDWG) Capacity Building Network (CBN) Coordinator for 2021 to 2022.
Her remarkable contributions for the National Manpower and Youth Council (NMYC) and towards the growing global recognition of the TVET system in the Philippines have been greatly valued and continues to manifest in TESDA's successes.