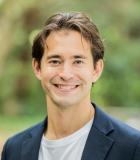 , Social Innovation Japan Co-Founder, mymizu
Profile / Bio:
Robin is an award-winning social entrepreneur based in Japan, recently recognized by M.I.T. Technology Review in its inaugural "Top Innovators Under-35" Japan awards.
He is Co-founder of mymizu - an initiative to reduce the consumption of single-use plastics and is also Co-founder of Social Innovation Japan - a platform for social good focusing on the UN Sustainable Development Goals.
For over 10 years, Robin has worked with social enterprises, NGOs, and inter-governmental organizations (including consultant roles at the World Bank and UNDP), and has managed humanitarian operations in countries such as Haiti, Nepal, Vanuatu, and Mozambique.
In 2017, he took on a sponsored expedition to walk 600+kms along Japan's coastline and document the changing landscapes since the 2011 Fukushima nuclear crisis ('Explore Tohoku' project).
His works have been featured by global media including CNN, Vogue, and The Guardian, and he serves as an advisor to several purpose-driven organizations led by young innovators across sectors.
Robin is a Board Member of Shibuya QWS, a Board Member of Youth4Nature, and a TED x Speaker. He graduated with an M.A. in International Business from the University of Edinburgh, UK.