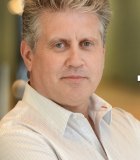 Profile / Bio:
With 30 years' experience working in leading telecommunications corporations, Robert has been at the forefront of commercial relationships with Satcom businesses based in Europe, USA and South East Asia. Today, Robert is the Managing Sales Director at Intelsat, responsible for customers represented by Carriers, Service Providers and Integrators across the Oceania region.
Prior to joining Intelsat, Robert held technical, sales and marketing management positions for Telstra, Optus, Bell Canada and Hills Industries. During this time, Robert has led teams of specialist satellite staff highly experienced in design, engineering, product and project management. Robert went on to lead Intelsat's Oceania team creating solutions which enable connectivity for the region's most remote customers. Today, working with Intelsat, Robert is helping to re-define the role of satellite as a technology to compliment core telecom demands rather than just providing solutions at the margin.
Robert has his Master of Business Administration (MBA) from the Southern Cross University and is a Telecommunications Graduate of Telstra's Training Academy. Robert's strength in B2B markets and strategic marketing facilitates identification and development of commercial opportunities for those businesses operating within the satellite value chain. This is achieved through Robert's intimate understanding of the satellite industry and the value developed by integrating the space and ground segment for its customers.