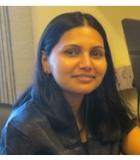 Principal Researcher and Team Leader
Profile / Bio:
Ritu Bharadwaj has more than 20 years of senior policy development, research and management experience in government, funding agencies and international NGOs. She has worked extensively on climate resilience, resource conservation, social protection, migration and gender issues.
Over the years her work has helped develop robust evidence-based research that has influenced policy framework and strategies for numerous institutions and organizations, including national governments, international development and humanitarian organizations. Her experience spans across issues of climate change, disaster risk reduction and migration and how it interacts with climate induced migration. She has particular understanding on how to align development and social protection programs to prevent climate induced displacement and distress migration.
Having provided leadership on policy and program design, she is seen as an important resource in the think tank of several institutions, particularly with government agencies, where she has contributed to the overall strategy, learning and advocacy agendas.