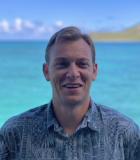 , Makai Ocean Engineering, Inc.
Profile / Bio:
Richard Argall is an experienced Executive with a demonstrated history of working internationally in the maritime industry.
He is skilled in energy, wind energy, pipelines, engineering, and maritime operations. He has strong business development and business leadership track record. This is underpinned by extensive technical training that includes Master's Degrees in Civil Engineering.