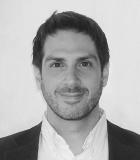 Senior Architect, MAS ETH, Dipl.Ing
Profile / Bio:
Ricardo Cabrera-Nyst is an Architect, Building Engineer and Urban Design specialist at the Esri R&D Center in Zürich.  He is currently involved in the development of Esri software with focus on practical applications related to Architecture, Urban Design and Planning.
His professional interests are motivated by the elaboration of interconnected specialized tools, that might work together, integrated in a holistic vision of the urban development process within a GIS framework.
Before joining Esri, Ricardo accumulated over 15+ years of experience in the AEC field. He developed his professional career internationally, participating in many different projects from design to execution as well as 2D/3D visualization and animation.