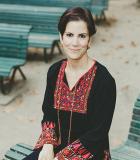 , Violence against Women Human Rights Council Special Procedures
Profile / Bio:
Ms. Reem Alsalem was appointed United Nations Special Rapporteur on violence against women, its causes and consequences in July 2021 by the UN Human Rights Council for a three-year tenure. She started her tenure on 1 August 2021.
Reem Alsalem is an independent consultant on gender issues, the rights of refugees and migrants, transitional justice and humanitarian response. She has consulted extensively for United Nations departments, agencies and programmes such as UN-Women, OHCHR, UNICEF and IOM, as well as for non-governmental organizations, think tanks and academia. Previously, she worked as an international civil servant, serving with the UNHCR in thirteen countries.
During her service, she has planned, implemented, and monitored programs that served to protect persons that were survivors of gender-based violence, particularly women and girls. She has also been a visiting professional with the Prosecutor's Office of the ICC from January to March 2009 and a visiting researcher with the Feinstein International Center of Tufts University in December 2008. She was also a Visiting Professional at the Investigation Unit of the Prosecutor Office, International Criminal Court, the Hague, the Netherlands, from January 2009-March 2009.
Reem has a Masters in International Relations from the American University in Cairo, Egypt (2001) and a Masters in Human Rights Law from the University of Oxford, United Kingdom of Great Britain and Northern Ireland (2003).