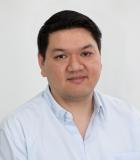 Assistant Director for Strategic Projects
, Negros Women for Tomorrow Foundation, Inc.
Profile / Bio:
Raymond Serios is the Assistant Director for Administration & Strategic Projects of Negros Women for Tomorrow Foundation, a microfinance organization based in the Philippines. Having been with the organization for more than 13 years, he has started or led a lot of projects that involve providing access to electrification in off-grid areas, access to water and sanitary hygiene facilities, access to telecommunication, electronic banking, social health insurance, and Post-Disaster Housing Reconstruction, among others. Currently, he oversees Human Resource, Strategic Projects, and I.T. while leading the Social Entrepreneurship advocacy of the organization towards creating stronger communities.