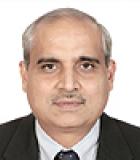 CEO National Rural Support Program and Chairman
, Board of Directors of Pakistan Mercantile Exchange Limited
Profile / Bio:
Dr. Rashid Bajwa is the CEO of NRSP which is Pakistan's largest rural development organization. NRSP was established in 1991 as a "not for profit company registered under Sec 42 of company's ordinance with the SECP. He has successfully steered the organization to become the largest Not for Profit organization in Pakistan in terms of its outreach, client base and ability to manage funding for the rural poor.
NRSP under Dr. Bajwa's leadership has also grown to become the largest microfinance provider in Pakistan with a focus on rural areas and small farmers. As the CEO of NRSP, Dr. Bajwa has successfully led the transformation of NRSP's microfinance operations to a regulated, deposit taking, privately owned Microfinance Bank with equity from ACUMEN Fund, KFW & IFC.
Dr. Bajwa holds a medical graduate degree from King Edward Medical College Lahore and an MPh from the Nuffield Institute of Health, University of Leeds, UK.