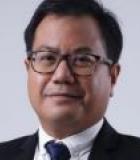 Assistant Minister for Industry
, Ministry of State-Owned Enterprises Badan Usaha Milik Negara (BUMN) Republic of Indonesia
Profile / Bio:
Mr. Rabin Hattari is the Assistant Minister for Industry at the Indonesian Ministry of State-Owned Enterprises and a governance specialist and plays pivotal roles in shaping policies and driving transformation of various State-Owned Enterprises that drive one-third of the nation's economy. Prior to his current appointment, he was a senior Economist in ADB with portfolio looking at governance issues in Southeast Asian economics.
He started his career as an Economist at Klynveld Peat Marwick Goerdeler/Barents Consulting for United States Agency for International Development's fiscal reform project in Indonesia. Subsequently, he held Economist roles at the International Monetary Fund and The World Bank in Washington DC, and the ADB in Manila. In 2017, he was appointed as the Special Advisor for the Coordinating Ministry of Economic Affairs before continuing his role as Senior Economist at ADB in 2019.
Mr. Hattari holds a B.A., in Economics and Mathematics from University of Georgia at Athens (1996), Master of Management in Actuarial Science from University of Indonesia (1996), and Ph.D., in Economics from George Mason University (2008).