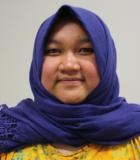 National Health Security Expert
Profile / Bio:
Rabiah completed a Master's degree in Health Economics and Policy from Karolinska Institutet exploring inequality in maternal healthcare utilization in Indonesia. She completed her Medical Doctor training at Universitas Gadjah Mada in Indonesia in 2014. 
Her Ph.D. project seeks to understand what modifications are needed for the efficient and cost-effective integration of routine antenatal screening for HIV and syphilis into the Indonesian health system and to co-desing a strategy to support the scale-up to the national level.