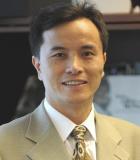 Chief of the Rural Development and Food Security Thematic Group, and OIC/Chief of the Environment Thematic Group
Profile / Bio:
Education background
He holds a doctoral degree in environmental engineering from the Tsinghua University; a master's degree in water resources management from the Sichuan University; and a bachelor's degree in hydrology from the Sichuan University. He was also trained at the Harvard Business School through its Executive Development Program.
Main experience
Qingfeng Zhang is responsible for ADB's operations on environment, natural resources, and agricultural development in the East Asia region.
Mr. Zhang joined ADB in 2005. He served at different positions in ADB, including environmental specialist (2005–2006); senior water resources engineer (2007–2009); principal water resources specialist (2009–2011); and lead water resources specialist (2011–2014). Prior to joining ADB, he was a director at the State Environmental Protection Administration in Beijing; a senior environment specialist at the World Bank in Washington, DC; and a research fellow at the Hong Kong University of Science and Technology. During his past 20 years of professional career, he had extensive experiences in the People's Republic of China, East Timor, Mongolia, Kyrgyzstan, Tajikistan, and Uzbekistan. He also contributed to regional cooperation for the ASEAN and the East and Central Asian countries on environmental and water management.