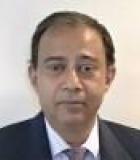 Former Country Director, Tajikistan
Profile / Bio:
Pradeep Srivastava was the Tajikistan Country Director for the Asian Development Bank. Prior to joining the ADB, Mr. Srivastava worked at Harvard University as a lecturer and associate in the Harvard Institute for International Development, following which he worked at the World Bank's Africa Technical Department in Washington, DC. Subsequently, he was Chief Economist at the National Council of Applied Economic Research in Delhi. Mr. Srivastava's operations experience covers several countries across Asia, Africa, and Latin America.
He left his position in ADB in January 2021.