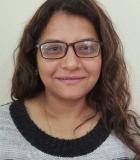 Energy Theme Lead, South Asia Regional Office
Profile / Bio:
Pooja Sharma is an engineering graduate from Delhi College of Engineering, India. She has more than 12 years of work experience and has been embedded in the principles of equality and accessibility of energy services for people living under energy poverty conditions. Energy solutions through technology (micro-hydro, solar irrigation, cook stoves) different financing models (such as Result based financing, impact financing), energy planning are her areas of work.
She is a Hubert Humphrey fellow on Technology Policy and Management from the University of Washington and had a professional affiliation with North West Energy Coalition in Seattle, while in the US. She was recently awarded the Distinguished Humphrey Leadership Award by the State Department of USA for her inspiring work in Nepal.
Before coming to PA, she was working with Energising Development program of GIZ as a Deputy Head of the program with an objective of providing energy services to rural people of Nepal through various decentralized and on grid electrification projects and their sustainable operation through innovative financing models and integration of Productive use of electricity.