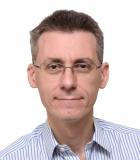 Profile / Bio:
Pierre Passin is the Deputy Director General of Asian Development Bank's Information Technology Department (ITD). Mr. Passin is responsible for IT infrastructure, platforms, technology innovation and cyber-defense. Mr. Passin, a national of France, has 20 years of multilateral development banks experience running IT systems covering software/systems development, infrastructure, integration, security and support.
Prior to joining ADB, he was Information Officer for the World Bank, based in Washington DC, where he led a team of IT specialists to deliver IT services to the executives of the World Bank.
He holds a Master's Degree in Aeronautical and Aerospace Engineering from ENSICA, France, as well as a Master's in Signal Processing and Digital Communications from University of Toulouse, France.