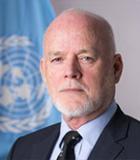 Special Envoy for the Ocean
Profile / Bio:
Peter Thomson is a Fijian diplomat who is currently serving as the United Nations Secretary-General's Special Envoy for the Ocean – the first person to be appointed to this position. He held the office of President of the General Assembly of the United Nations from September 2016 until September 2017. He was Fiji's Permanent Representative to the UN from February 2010 to September 2016.
Thomson was elected President of the Assembly of the Institute Seabed Authority's 2011 session and then as President of the Authority's Council for its 2015 session. In 2013 he chaired the Group of 77 and China at the United Nations on Fiji's behalf, and served as President of the Executive Board of UNDP/UNFPA/UNOPS from 2014 to 2015.
As a Government of Fiji civil servant, he devoted many years of his life to working in the fields of rural development and then foreign affairs. From 1988 to 2009, he was the Managing Director of the development consultancy company Thomson Pacific based in Auckland, New Zealand and Sydney, Australia.
Thomson was born in Fiji, graduating from Natabua High School. He gained a BA in Political Science from Auckland University and a Postgraduate Diploma in Development Studies from the University of Cambridge, England.