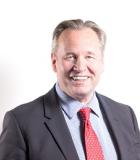 , CoST – the Infrastructure Transparency Initiative
Profile / Bio:
Petter has been involved in CoST since its origins and he has led CoST International since 2011. As Executive Director, he has overall responsibility for CoST policy, strategy and programme delivery.
In addition to his role in CoST, Petter is Executive Director of Engineers Against Poverty, an independent NGO that works to influence infrastructure policy and practice. Petter is also the Chair of the C20 Infrastructure Working Group (IWG) and a member of the C20 Steering Committee for the G20 Saudi Arabia Presidency (2020). And he was the Chair of the C20 IWG for the G20 Japan Presidency (2019).
His experience includes specialising in the built environment and international development, areas in which he has more than 30 years' experience. He has worked for government, industry and civil society in many parts of Africa, Asia and the Pacific region. Petter has a BA in Development Studies and Politics from the School of Oriental and African Studies and an MSc in Social Policy and Planning in Developing Countries from the London School of Economics.