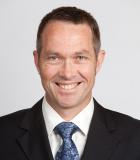 , Wedgewood White Limited
Profile / Bio:
Paul Webber is the director of Wedgewood White Ltd.
He specializes in pricing and economic regulation of infrastructure, and financial analysis. Currently, he is spending a lot of time helping customers transition their fleets to electric vehicles, and helping building owners understand the implications of EV charging for their sites.
He is experienced in the electricity, gas, and water industries but has also undertaken interesting work in satellite-based telecommunications and structured finance.
More information about Paul Webber at Wedgewood White Ltd at www.wedgewoodwhite.com.