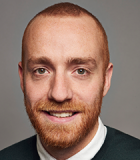 Principal Consultant and Data Innovation Lead
, Oxford Policy Management
Profile / Bio:
Paul Jasper is a Principal Consultant in the Research and Evidence practice at OPM and leads the Data Innovation team. He is an Economist with extensive experience in data analytics, data management, quantitative research, experimental and quasi-experimental quantitative evaluation methodologies, and statistical analysis.
Paul leads OPM's work on applications of modern data science methods in policy making and on innovative methodological approaches in Data Science related to quantitative studies, with a focus on evaluation methods. For example, Paul's recent work includes assessing the usefulness of Big Data and AI approaches for poverty measurement and of using new, large, datasets to understand the relationship between temperature variability and poverty in LMIC. In addition, Paul's work included advising the Government of Canada (Global Affairs Canada) on the use of text analytics and machine learning to improve large-scale programme evaluations and to explore innovative uses of data – including Big Data – in the context of large donor-funded programmes. He has also led the development of an interactive risk map for severe COVID-19 cases in Mozambique, in cooperation with the Mozambican Government. More recently, he has published on how to map nutritional indicators geospatially using remote sensing data.
In addition to working with OPM, Paul is also the Head of Statistics of Groots, a technology start-up, based in Berlin, which is offering an innovative solution to collect data in remote communities. He is also an external PhD student at Wageningen University in the Netherlands.