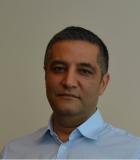 Profile / Bio:
Ozzeir Khan is the Director of the Office of Business Relationships and IT Strategy for Digital Innovation within Asian Development Bank. He is currently also heading the ADB Digital Innovation Sandbox Program.
He has worked for United Nations and global financial banking services sector in Asia, Europe, and the USA.
Prior to joining the ADB, he was Chief of Innovation and Business Relationships at United Nations HQ in New York, where he was responsible for developing relationships with departments, member countries, facilitating public-private sector partnerships and leading innovation labs' development globally.
His broad areas of expertise include Digital Transformation, Innovation, and Emerging Technologies adoption by Public Sector and International Agencies.