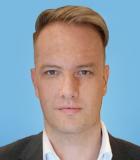 , ICC Digital Standards Initiative
Profile / Bio:
Oswald Kulyer is currently the Digital Trade Standards Initiative (DSI) Managing Director at the International Chamber of Commerce (ICC).
Oswald is the former Head of Data Strategy of BHP, the world's largest diversified mining company. He has worked on initiatives covering blockchain, electronic documentation in trade, data and analytics, and automation. 
Before BHP, Oswald was on the leadership team of EOH MS in South Africa, delivering solutions for a diverse customer base globally. He focused on providing solutions that enabled electronic documentation and records management, enhanced collaboration, business process management, and reporting. 
A technologist at heart with a strong focus on its impact on a corporates balance sheet, Oswald is now focused on further the enabling of trade digitizations through the creation of standards at the international chamber of commerce.