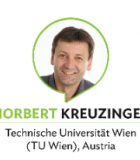 , Technische Universität Wien (TU Wien), Austria
Profile / Bio:
Norbert is an associate professor at the Institute for Water Quality, Resources, and Waste Management at TU Wien. He is involved in international postgraduate courses on various aspects of river basin management and the education of Austrian wastewater treatment plant (WWTP) operators. His general research addresses the effects of treated wastewater on the aquatic environment, implementing chemical and microbiology analyses of surface water and wastewater as well as risk management and technology development for contaminants of emerging concern (CEC) like organic trace pollutants, antibiotic resistance bacteria, and microplastics.
Norbert was involved in the development of the Austrian guidelines for surface water emissions in accordance with the European Union Water Framework Directive and an approach for management guidelines of small catchment areas.
As a member of several working groups hosted by the Austrian Water and Waste Association (ÖWAV) and as a member of national and international boards, he is concerned with the implementation of further treatment potential in municipal WWTPs from a scientific and applied research point of view.