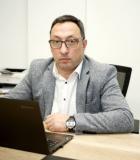 , Digital Governance Agency
Profile / Bio:
Mr. Gagnidze provides 20 years of professional experience and more than 10 years on the topic of e-government, ICT policy, ICT regulatory frameworks, information security policies and standards, strategy development and implementation. Mr. Gagnidze has in-depth knowledge of the specific regulatory reforms in public administration and e-government for the countries in transition due to his extensive professional experience in similar processes in Georgia. As an Expert he has experience in the following areas: e-Government Strategy development; Cyber Security Strategy development; Information and Cyber Security; Public Service Delivery model development; ICT strategy development; ICT security policy development and implementation; Information security implementation and audit; ICT strategy plan evaluation; ICT operation management and change management policy development; Business processes reengineering.
Mr. Gagnidze has worked in governmental, international, and private organizations. His professional career started in the private sector and continued with the Government of Georgia. He is now Deputy Chairman of LEPL Digital Governance Agency, Ministry of Justice of Georgia and is leading charge of e-Government and Cyber security policy document development and relevant action plans implementation processes. 
Importantly, Mr. Nikoloz Gagnidze is very experienced in high-level political communication (he advices on e-government issues political decision makers of foreign governments) and has useful skills in high-level leadership and communication. He participated in international trainings and forums as an invited expert and speaker for Marshal Center's program on Cyber Security, Euro Dig, HDM EU4Digital and other high level conferences and events. He has coordinated several donor-funded international projects and has led work packages in other projects. As responsible person from Georgian side within international projects, Mr. Gagnidze has paved the way for partnerships with multiple foreign delegations, including: Austria, Germany, Poland, Estonia, Italy, Latvia, UK, the Netherlands, Portugal, Czech Republic, Greece, Albania, Ukraine, Moldova, Armenia, Azerbaijan and Belarus.