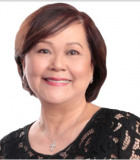 Internal Audit Division Head
, Unionbank of the Philippines
Profile / Bio:
Myrna is currently the Chief Audit Executive of the Unionbank of the Philippines. She holds the position of First Vice President and Internal Auditor of UnionBank.
Myrna is a member of the Board of Trustees of the Institute of Internal Auditors – Philippine Chapter (IIA-P). She was the Chairman and President of the Institute of Internal Auditors – Philippine Chapter (2017).
She is also a Director of the Banker's Association of the Philippines (BAIPHIL).
She was a president of the ISACA – Manila Chapter in 2003 and 2004.
She is a Certified Public Accountant (CPA), Certified Internal Auditor (CIA), Certified Information Systems Auditor (CISA) and has the designation of certification in the Governance of Enterprise Information Technology (CGEIT). On top of these certifications in the field of internal audit and information technology, Ms. Amahan is a qualified internal audit external validator having undertaken the necessary training as well as passing the required exams.
She previously worked as supervising IS Auditor at Equitable –PCI Bank from 1996 to 2000 and was the Head of the System Consultancy Services of the Commission on Audit from 1993 to 1996.
She graduated Magna Cum Laude with the degree of Bachelor of Science in Commerce Major in Accounting from the University of San Carlos. She obtained a Master's Degree in Public Management from the Development Academy of the Philippines in 1994.